2005 Wall Calendar
Release date(s):
2004
This article needs general attention.

This page does not currently meet the standards of quality set by the Wiki 24 community. Please visit the article's talk page to see what needs fixing and feel free to edit this page to assist with this task.
The 2005 Wall Calendar was a calendar released in 2004. It lists the dates and main international holidays of 2005, featuring images from Season 1, 2 and 3 of 24.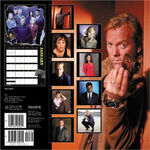 September
Edit