Ad blocker interference detected!
Wikia is a free-to-use site that makes money from advertising. We have a modified experience for viewers using ad blockers

Wikia is not accessible if you've made further modifications. Remove the custom ad blocker rule(s) and the page will load as expected.
This article or section is incomplete.

This page has been identified as needing attention. It does not currently meet the standards of quality set by the Wiki 24 community because it is missing important information. Please edit this page to expand it, or visit the article's talk page to discuss proposed additions.
2008 Wall Calendar
Release date(s):
6 August 2007
The 2008 Wall Calendar was a calendar released on 6 August 2007. It lists the dates and main international holidays of 2008 over twelve double pages, featuring images of Jack Bauer from different seasons of 24. The calendar had the subtitle "Featuring the enemies of Jack Bauer", referencing the small character profiles of former foes of Jack that have appeared over different seasons of the show.
Large image: Jack Bauer, unknown promotional image.
Enemy profile:
Large image: Jack Bauer, unknown promotional image.
Enemy profile:
Large image: Jack Bauer, unknown promotional image.
Enemy profile: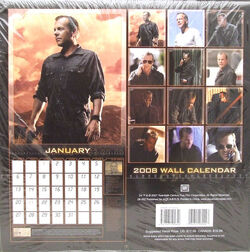 September
Edit
Large image: Jack Bauer, unknown promotional image.
Enemy profile: