2009 Wall Calendar
Release date(s):
14 October 2008
The 2008 Wall Calendar was a calendar released on 14 October 2008. It lists the dates and main international holidays of 2009 over thirteen double pages, featuring images of Jack Bauer from Season 5 and 6 of 24.
The first double-page in the calendar is a list of all days and dates of 2009, listed by month. It is accompanied by a promotional image of Jack Bauer from Season 1.
Large image: Season 6: Jack Bauer running towards the exploded warehouse, 8:46am.
Notable dates:

1st: New Year's Holiday
2nd: Holiday
26th: Chinese New Year
Large image: Season 6: Jack Bauer takes out some of Assad's men to defend him from the air strike, 7:10am.
Notable dates:

4th: May Day Holiday
25th: Spring Holiday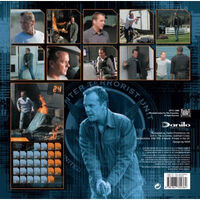 September
Edit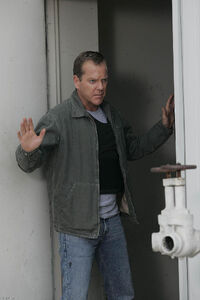 Large image: Season 6: Jack Bauer prepares to enter the house just before it explodes, 2:56pm.
Notable dates:

18th: Al Hijra
21st: Shortest day
25th: Christmas Day
26th: Boxing Day, St. Stephen's Day
Background information and notes
Edit
The only image from Season 5 is in April, and is from the finale.
The image from December is almost exactly the same as the image from July, with the latter taking place seconds later.
Ad blocker interference detected!
Wikia is a free-to-use site that makes money from advertising. We have a modified experience for viewers using ad blockers

Wikia is not accessible if you've made further modifications. Remove the custom ad blocker rule(s) and the page will load as expected.