Ad blocker interference detected!
Wikia is a free-to-use site that makes money from advertising. We have a modified experience for viewers using ad blockers

Wikia is not accessible if you've made further modifications. Remove the custom ad blocker rule(s) and the page will load as expected.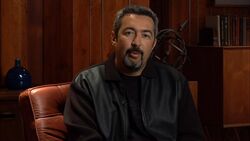 24: Behind the Scenes Book Sample is a special feature found on the Season Five DVD.
Behind the Scenes Book Sample
Edit
Jon Cassar, director of 24, explains about the reference book he has published, 24: Behind the Scenes. It features photographs from on the set of the first five seasons of 24 taken by members of the 24 crew; Cassar, Rodney Charters, Isabella Vosmikova and Kiefer Sutherland.
He explains that it shows what life has been like on the 24 set for the last five years and wishes enjoyment to the viewers of the book.
24 home video releases
VHS · DVD · Blu-ray Disc
Season 1
VHS
Region: 1, 2, 4
Season 2
VHS
Region: 1, 2, 4
Season 3
Region: 1, 2, 4
Season 4
Region: 1, 2, 4
Season 5
Region: 1, 2, 4
Season 6
Region: 1, 2, 4
Redemption
Region: 1, 2, 4
Season 7
Region: 1, 2, 4
BD Region: A, B
Season 8
Region: 1, 2
BD Region: A, B
Season 9
Region: 1
BD Region: A
Others