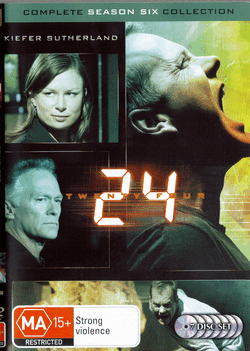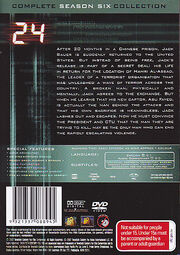 24: Complete Season Six Collection is the Season 6 DVD set for Region 4. This set was released in September 2007. This is the first season since season three to have the seventh disc a part of the set, not as a limited edition item (Season five) or just in the Season 1-5 box set (Season four). Subtitles for the episode and for the episode commentary are written in English, Norwegian, and Swedish. Due to TV3 not screening Season 6 until October 2007, this set was not released in New Zealand until March 18, 2008.
The back of the cover reads as follows:
"After 20 months in a Chinese prison, Jack Bauer is suddenly returned to the United States. But instead of being free, Jack's release is part of a secret deal: his life in return for the location of Hamri Al-Assad, the leader of a terrorist organisation that has unleashed a wave of terror across the country. A broken man, physically and mentally, Jack agrees to the exchange. But when he learns that his new captor, Abu Fayed, is actually the man behind the attacks and that his own sacrifice is meaningless, Jack lashes out and escapes. Now he must convince the President and CTU that the man they are trying to kill, may be the only man who can end the rapidly escalating violence."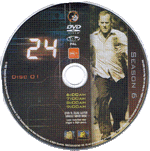 Character on disc: Jack Bauer
Character on disc: Phillip Bauer
Character on disc: Former President Charles Logan
Character on disc: Mike Doyle
Character on disc: Bill Buchanan
Character on disc: Chloe O'Brian
Characters on disc: Jack Bauer & Hamri Al-Assad
24 home video releases
VHS · DVD · Blu-ray Disc
Season 1
VHS
Region: 1, 2, 4
Season 2
VHS
Region: 1, 2, 4
Season 3
Region: 1, 2, 4
Season 4
Region: 1, 2, 4
Season 5
Region: 1, 2, 4
Season 6
Region: 1, 2, 4
Redemption
Region: 1, 2, 4
Season 7
Region: 1, 2, 4
BD Region: A, B
Season 8
Region: 1, 2
BD Region: A, B
Season 9
Region: 1
BD Region: A
Others