Ad blocker interference detected!
Wikia is a free-to-use site that makes money from advertising. We have a modified experience for viewers using ad blockers

Wikia is not accessible if you've made further modifications. Remove the custom ad blocker rule(s) and the page will load as expected.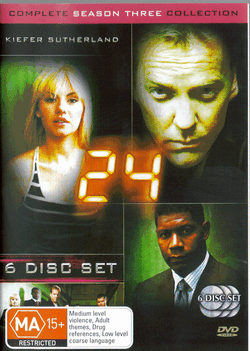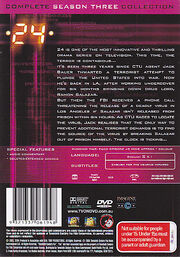 24: Complete Season Three Collection is the Season 3 DVD set for Region 4. This pictured set was released in late 2006. There were three other releases for Season 3: a seven disc fold out box set released in Sepetember 2004, a three case box set released in September 2004 as well and in 2004, half-season sets were also released. The back of the cover reads as follows:
"24 is one of the most innovative and thrilling drama series on television. This time, the terror is contagious. It's been 3 years since CTU Agent Jack Bauer thwarted a terrorist attempt to plunge the United States into war. Now he's back in LA, after working undercover for six months bringing down drug lord, Ramon Salazar. But then the FBI receives a phone call threatening the release of a deadly virus if Salazar isn't released from prison within 6 hours. As CTU races to locate the virus, Jack realises that the only way to prevent additional terrorist demands is to find the source of the virus by breaking Salazar out of prison himself. The clock is ticking..."
Character on disc: Jack Bauer
Character on disc: President David Palmer
Character on disc: Kim Bauer
Character on disc: Tony Almeida
Character on disc: Michelle Dessler
Character on disc: Chase Edmunds
Character on disc: Full Cast
See also
Edit
24 home video releases
VHS · DVD · Blu-ray Disc
Season 1
VHS
Region: 1, 2, 4
Season 2
VHS
Region: 1, 2, 4
Season 3
Region: 1, 2, 4
Season 4
Region: 1, 2, 4
Season 5
Region: 1, 2, 4
Season 6
Region: 1, 2, 4
Redemption
Region: 1, 2, 4
Season 7
Region: 1, 2, 4
BD Region: A, B
Season 8
Region: 1, 2
BD Region: A, B
Season 9
Region: 1
BD Region: A
Others