Ad blocker interference detected!
Wikia is a free-to-use site that makes money from advertising. We have a modified experience for viewers using ad blockers

Wikia is not accessible if you've made further modifications. Remove the custom ad blocker rule(s) and the page will load as expected.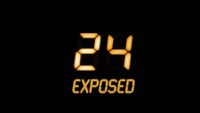 24: Exposed is a 2 part special feature found on the second season's DVD.
24 Exposed
Edit
The special follows many of the cast and crew, notably Jon Cassar and Kiefer Sutherland, as the final days of production on the second season is completed.
It begins in the writer's room with Cassar and the rest of the crew of 24 talking about the series finale. It then moves on to show the filming side of the show, featuring several scenes, including the hand-to-hand combat scene with stuntman J. J. Perry, and the final action scene with Tobin Bell (Peter Kingsley). It also shows the editing process of the series finale, and Kiefer Sutherland mentioning his happiness at the break before the filming of Season 3 begins. Dennis Haysbert, Penny Johnson Jerald, Elisha Cuthbert, Sarah Wynter, Scott Paulin and Bell are interviewed regarding their status on the show. Joel Surnow and Howard Gordon are seen smoking cigars throughout the special feature agasped at what remarkable things the rest of the crew has done with their material while they struggle to come up with a solid resolution for the second season in it's last week of production.
24 home video releases
VHS · DVD · Blu-ray Disc
Season 1
VHS
Region: 1, 2, 4
Season 2
VHS
Region: 1, 2, 4
Season 3
Region: 1, 2, 4
Season 4
Region: 1, 2, 4
Season 5
Region: 1, 2, 4
Season 6
Region: 1, 2, 4
Redemption
Region: 1, 2, 4
Season 7
Region: 1, 2, 4
BD Region: A, B
Season 8
Region: 1, 2
BD Region: A, B
Season 9
Region: 1
BD Region: A
Others