Ad blocker interference detected!
Wikia is a free-to-use site that makes money from advertising. We have a modified experience for viewers using ad blockers

Wikia is not accessible if you've made further modifications. Remove the custom ad blocker rule(s) and the page will load as expected.
24: Season Eight DVD Collection
Release date(s):
November 8, 2010
Discs:
6
Studio:
Fox
Aspect ratio:
1.78:1
Region:
2
24: Season Eight DVD Collection was released on DVD in the United Kingdom on November 8, 2010. It features all 24 episodes from Season 8, deleted scenes, and several hours of bonus features. All episodes are presented in anamorphic widescreen. The set contains no audio commentaries, but has an exclusive 7th disc with over 60 minutes of additional features.
Similar to the Season 7 release, special features are spread out over the six discs, rather than having a disc entirely devoted to them at the end.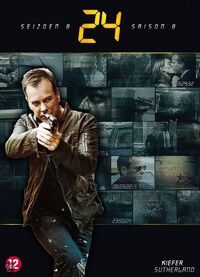 Disc Three
Edit
Disc Four
Edit
Disc Five
Edit
Bonus Disc
Edit
24 home video releases
VHS · DVD · Blu-ray Disc
Season 1
VHS
Region: 1, 2, 4
Season 2
VHS
Region: 1, 2, 4
Season 3
Region: 1, 2, 4
Season 4
Region: 1, 2, 4
Season 5
Region: 1, 2, 4
Season 6
Region: 1, 2, 4
Redemption
Region: 1, 2, 4
Season 7
Region: 1, 2, 4
BD Region: A, B
Season 8
Region: 1, 2
BD Region: A, B
Season 9
Region: 1
BD Region: A
Others