Ad blocker interference detected!
Wikia is a free-to-use site that makes money from advertising. We have a modified experience for viewers using ad blockers

Wikia is not accessible if you've made further modifications. Remove the custom ad blocker rule(s) and the page will load as expected.
24: Season Four DVD Collection
Release date(s):
August 8, 2005
Discs:
7
Studio:
Fox
Aspect ratio:
1.78:1
Region:
2
Season 4 of 24 was released in the United Kingdom on August 8, 2005. It contains all 24 episodes from Season 4 on six discs, and audio commentaries, deleted scenes, and several hours of bonus features on the 7th disc. All episodes are presented in Anamorphic Widescreen (1.78:1).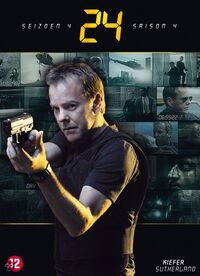 Character pictured on Disc: Jack Bauer
Character pictured on Disc: James Heller
Disc Three
Edit
Character pictured on Disc: Audrey Raines
Disc Four
Edit
Character pictured on Disc: Tony Almeida
Disc Five
Edit
Character pictured on Disc: Michelle Dessler
Character pictured on Disc: Habib Marwan
Disc Seven
Edit
Character pictured on Disc: Jack Bauer
24 home video releases
VHS · DVD · Blu-ray Disc
Season 1
VHS
Region: 1, 2, 4
Season 2
VHS
Region: 1, 2, 4
Season 3
Region: 1, 2, 4
Season 4
Region: 1, 2, 4
Season 5
Region: 1, 2, 4
Season 6
Region: 1, 2, 4
Redemption
Region: 1, 2, 4
Season 7
Region: 1, 2, 4
BD Region: A, B
Season 8
Region: 1, 2
BD Region: A, B
Season 9
Region: 1
BD Region: A
Others