24: Season Seven DVD Collection (Region 2)
Talk

0
24: Season Seven DVD Collection
Release date(s):
October 19, 2009
Discs:
6
Studio:
Fox
Aspect ratio:
1.78:1
Region:
2
24: Season Seven DVD Collection was released on DVD in the United Kingdom on October 19, 2009. It features all 24 episodes from Season 7 of 24, audio commentary on selected episodes, deleted scenes, and several hours of bonus features. All episodes are presented in anamorphic widescreen.
Conversely from previous seasons, special features are spread out over the six discs, rather than having a disc entirely devoted to them at the end.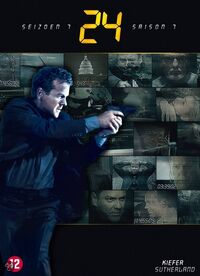 Disc Three
Edit
Disc Four
Edit
Disc Five
Edit
Background information and notes
Edit
The Region 2 release has several features the Region 1 DVD doesn't; it features the Scenemakers webisodes and the "24 in 24" documentary.
24 home video releases
VHS · DVD · Blu-ray Disc
Season 1
VHS
Region: 1, 2, 4
Season 2
VHS
Region: 1, 2, 4
Season 3
Region: 1, 2, 4
Season 4
Region: 1, 2, 4
Season 5
Region: 1, 2, 4
Season 6
Region: 1, 2, 4
Redemption
Region: 1, 2, 4
Season 7
Region: 1, 2, 4
BD Region: A, B
Season 8
Region: 1, 2
BD Region: A, B
Season 9
Region: 1
BD Region: A
Others