Ad blocker interference detected!
Wikia is a free-to-use site that makes money from advertising. We have a modified experience for viewers using ad blockers

Wikia is not accessible if you've made further modifications. Remove the custom ad blocker rule(s) and the page will load as expected.
24: Season Two DVD Collection
Release date(s):
August 11, 2003
Discs:
7
Studio:
Fox
Aspect ratio:
1.78:1
Region:
2
Season 2 of 24 was released in the United Kingdom on August 11, 2003. It contains all 24 episodes from Season 2, audio commentary on selected episodes, and several hours of bonus features on the 7th disc. All episodes are presented in Anamorphic Widescreen (1.78:1).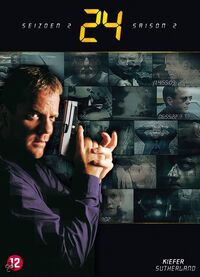 Character pictured on Disc: Jack Bauer
Character pictured on Disc: David Palmer
Disc Three
Edit
Character pictured on Disc: Nina Myers
Disc Four
Edit
Character pictured on Disc: Tony Almeida
Disc Five
Edit
Character pictured on Disc: George Mason
Character pictured on Disc: Kim Bauer
Disc Seven
Edit
Characters pictured on Disc: Full cast
See also
Edit
24 home video releases
VHS · DVD · Blu-ray Disc
Season 1
VHS
Region: 1, 2, 4
Season 2
VHS
Region: 1, 2, 4
Season 3
Region: 1, 2, 4
Season 4
Region: 1, 2, 4
Season 5
Region: 1, 2, 4
Season 6
Region: 1, 2, 4
Redemption
Region: 1, 2, 4
Season 7
Region: 1, 2, 4
BD Region: A, B
Season 8
Region: 1, 2
BD Region: A, B
Season 9
Region: 1
BD Region: A
Others