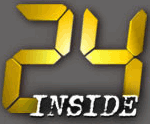 24 Inside was a 24-related talk-show format webcast found on FOX.com. Each episode was 10-25 minutes long. Daphne Brogdon hosted, and fans could also e-mail questions for the cast and creative team at 24@fox.com.
After Season 7, the show was cancelled and replaced with crew blogs and interviews on Network 24.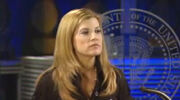 Episodes
Edit
Penny Johnson Jerald and executive producer Howard Gordon
Mary Lynn Rajskub and director/producer Jon Cassar
DB Woodside and writer/producer Stephen Kronish
Shohreh Aghdashloo and executive producer Peter Lenkov
Kim Raver and production designer Joseph Hodges
Jonathan Ahdout and director Tim Iacofano
Co-creator/executive producer Robert Cochran and production designer Joseph Hodges
Co-creator/executive producer Joel Surnow, producer Paul Gadd, and Jayne Atkinson
James Morrison, writers Matt Michnovetz & Duppy Demetrius, and script coordinators Nicole Ranadive & Donna Rooney
Jean Smart, director/producer Jon Cassar, and on-set prop master Sterling Rush
Gregory Itzin, editor Scott Powell, and hair stylist Michael Marcellino
Jude Ciccolella, costume designers Jim Lapidus & Jean Rosone, and set decorator Cloudia Rebar
Glenn Morshower, video playback experts Mark Marcum & Dan Murbarger, and set decorator Cloudia Rebar
Co-Creator/Executive Producer Joel Surnow, set decorator Cloudia Rebar, and location manager John Johnston.
Executive Producer Howard Gordon and Casting Director Debi Manwiller.
Director/Executive Producer Jon Cassar and Production Designer Joseph Hodges.
Episode 2 - 24 After Hours
Segment 1: At the Season 7 Premiere Party, Cherry Jones talks about how she has never done television work before, working with Kiefer, and how all the crew helped with her transition into TV work.
Segment 2:
Segment 3:
Segment 4:
Segment 5:
External links
Edit
Ad blocker interference detected!
Wikia is a free-to-use site that makes money from advertising. We have a modified experience for viewers using ad blockers

Wikia is not accessible if you've made further modifications. Remove the custom ad blocker rule(s) and the page will load as expected.