Achilles 4 was a government tracking satellite used by CTU Los Angeles during Day 5.
After an arrest warrant was put out for Jack Bauer, Achilles 4 was one of the satellites tasked to track him down. However, Karen Hayes attempted to use Audrey Raines to reach Bauer, and Audrey managed to shed the tracker placed on her car by Valerie Harris. Karen contacted Miles Papazian and told him to use one of the satellites to locate Audrey, which would then lead them to Jack.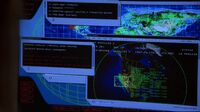 Miles repositioned Achilles 4 to find Audrey, and Shari Rothenberg noticed that it was locked out and had been taken over with a class 1 priority override. Chloe O'Brian saw the satellite was being used to track Audrey, so went to the server room and caused interference with the video feed. This allowed Audrey to reach Van Nuys Airfield undetected. ("Day 5: 11:00pm-12:00am")
Ad blocker interference detected!
Wikia is a free-to-use site that makes money from advertising. We have a modified experience for viewers using ad blockers

Wikia is not accessible if you've made further modifications. Remove the custom ad blocker rule(s) and the page will load as expected.