Alik was an enforcer in the Russian mafia loyal to the crime lord Mishka.
Alik and his partner Sasho abducted Roman Vlacic, who was heavily in debt to Mishka, and brought him before their after he failed to pay up by the deadline. After learning that Roman had no money to give him, Mishka shot and killed him, then ordered Alik and Sasho to dispose of the body and tell Roman's brother Petro that the debt was now his.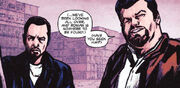 The two men visited Petro at the port in Odessa and informed him of the situation, then gave him the number for a container bearing a shipment of methylamine. Petro was to steal the chemical before it left port and then contact them on a provided cell phone. When Petro protested, the thugs beat him and warned that they would pay a visit to his wife and son should he refuse.
Later in the evening, Petro and his friend "Borys" arrived at the agreed-upon meeting place with the container. Impressed, Alik and Sasho verified that the shipment was present and undamaged, and were about to conclude matters when Mishka recognized Borys as Jack Bauer, and ordered his men to take the two hostage. (Underground #1)
Appearances
Edit
 

Expanded universe
Novels

Findings at CTU · Operation Hell Gate · Veto Power · Trojan Horse · Cat's Claw · Vanishing Point · Chaos Theory · Storm Force · Collateral Damage · Trinity · Head Shot · Death Angel · Deadline · Rogue · Trial by Fire

Comics
Games

Countdown · The Game · The Mobile Game · Agent Down · Special Ops · Jack Bauer

Webisodes

Day Zero · Conspiracy · The Rookie

("Coffee Run" · "Mistaken Identity" · "Extraction")
Ad blocker interference detected!
Wikia is a free-to-use site that makes money from advertising. We have a modified experience for viewers using ad blockers

Wikia is not accessible if you've made further modifications. Remove the custom ad blocker rule(s) and the page will load as expected.