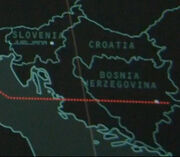 The Balkans were a group of countries, thus named for historic significance, in Eastern Europe.
Nightfall
Edit
Operation Nightfall took place in Belgrade and Kosovo, within the republic of Serbia, in Yugoslavia in the Balkans.
Tony Almeida told Alberta Green that he traced Jonathan Matijevich to the Balkans. ("Day 1: 10:00am-11:00am")
Locations
Edit
Appearances
Edit
 

Expanded universe
Novels

Findings at CTU · Operation Hell Gate · Veto Power · Trojan Horse · Cat's Claw · Vanishing Point · Chaos Theory · Storm Force · Collateral Damage · Trinity · Head Shot · Death Angel · Deadline · Rogue · Trial by Fire

Comics
Games

Countdown · The Game · The Mobile Game · Agent Down · Special Ops · Jack Bauer

Webisodes

Day Zero · Conspiracy · The Rookie

("Coffee Run" · "Mistaken Identity" · "Extraction")
Ad blocker interference detected!
Wikia is a free-to-use site that makes money from advertising. We have a modified experience for viewers using ad blockers

Wikia is not accessible if you've made further modifications. Remove the custom ad blocker rule(s) and the page will load as expected.