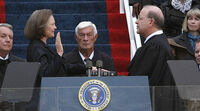 The Bible is the primary collection of religious writings of Christianity and Judaism. The inauguration of the President of the United States involves swearing an oath on the Bible.
Mike Doyle told Nadia Yassir that he read the Bible whilst looking for answers, but found none.
Charles Logan read from the Bible during Day 6.
Sandra Palmer likened her brother David's patience to that of Job's, a biblical figure.