Ad blocker interference detected!
Wikia is a free-to-use site that makes money from advertising. We have a modified experience for viewers using ad blockers

Wikia is not accessible if you've made further modifications. Remove the custom ad blocker rule(s) and the page will load as expected.
CTU Washington D.C. (or commonly known as D.C. CTU) was a Domestic Unit of the Counter Terrorist Unit based in Washington DC. Also in Washington DC was the Main Operational Center of the CTU, where Alberta Green transferred after Day 1. (Findings at CTU)
Before Day 1
Edit
George Mason worked here at the Washington CTU after having worked at the Miami and Phoenix locations. (Fox.com profiles)
The Game
Edit
During the events of 24: The Game, it is revealed that both Chase Edmunds and Chloe O'Brian previously worked at D.C. C.T.U. before the start of Day 3. Their superior was Sonya.
During Day 3, D.C. CTU secured two vials of the Cordilla Virus. ("11:00am-12:00pm")
Conspiracy
Edit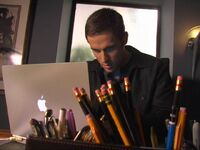 The plot of Conspiracy takes place at D.C. CTU. It follows the field agents Susan Walker and Martin Kail, as well as the analyst Kelly and the director James Sutton.
Appearances
Edit
 

Expanded universe
Novels

Findings at CTU · Operation Hell Gate · Veto Power · Trojan Horse · Cat's Claw · Vanishing Point · Chaos Theory · Storm Force · Collateral Damage · Trinity · Head Shot · Death Angel · Deadline · Rogue · Trial by Fire

Comics

One Shot · Stories · Midnight Sun · Nightfall

(1 · 2 · 3 · 4 · 5)

· Cold Warriors · Underground

(1 · 2 · 3 · 4 · 5)

Games

Countdown · The Game · The Mobile Game · Agent Down · Special Ops · Jack Bauer

Webisodes

Day Zero · Conspiracy · The Rookie

("Coffee Run" · "Mistaken Identity" · "Extraction")