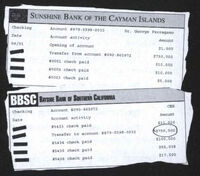 The Committee to Elect Hodges was a political action committee, responsible for organizing and funding Governor Mike Hodges' campaign for the Democratic Party's Presidential nomination and his election to office.
A Cayman Islands bank account associated with the Committee made a wire transfer of $750,000 to Dr. George Ferragamo's personal account, not long before Ferragamo approached Maureen Kingsley with the story of Keith Palmer's accidental killing of Lyle Gibson. Washington Gazette reporter Will Hertz later identified the source of the transfer, and speculated that Hodges' campaign paid Ferragamo to come forward and ruin Senator David Palmer's rival campaign for President. (Findings at CTU)
Ad blocker interference detected!
Wikia is a free-to-use site that makes money from advertising. We have a modified experience for viewers using ad blockers

Wikia is not accessible if you've made further modifications. Remove the custom ad blocker rule(s) and the page will load as expected.