Dan Lemieux was a stunt performer with two roles on 24:
He has played two different characters who were killed by Jack Bauer. See here for others with this distinction.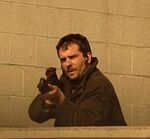 24 credits Edit
Dawn Brigade separatist
Kozelek Hacker's henchman
Selected filmography
Edit
Hostel: Part III (2011)
Step Brothers (2008)
Blades of Glory (2007)
Cursed (2005)
Not Another Teen Movie (2001)
Television appearances
Crash Course (2009)
Without a Trace (2007)
Scrubs (2002-2006)
See also
Edit
External links
Edit
Ad blocker interference detected!
Wikia is a free-to-use site that makes money from advertising. We have a modified experience for viewers using ad blockers

Wikia is not accessible if you've made further modifications. Remove the custom ad blocker rule(s) and the page will load as expected.