David Brickman
Role:
Gredenko's man
David Brickman is an actor who played one of Dmitri Gredenko's henchmen in Season 6 of 24.
In Day 6: 2:00pm-3:00pm he is standing guard at 9421 Glasgow, and in the later episodes can be seen in the background of the Shadow Valley scenes. At the start of Day 6: 7:00pm-8:00pm, he helps assemble one of the aerial drones.
Brickman appeared in the 2008 film La Benidiction, playing Daniel.
24 creditsEdit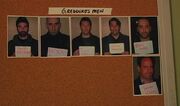 External links
Edit
Ad blocker interference detected!
Wikia is a free-to-use site that makes money from advertising. We have a modified experience for viewers using ad blockers

Wikia is not accessible if you've made further modifications. Remove the custom ad blocker rule(s) and the page will load as expected.