Ad blocker interference detected!
Wikia is a free-to-use site that makes money from advertising. We have a modified experience for viewers using ad blockers

Wikia is not accessible if you've made further modifications. Remove the custom ad blocker rule(s) and the page will load as expected.
This is a list of characters with articles or unnamed characters entries who were antagonists during Day 4.
Unlike the other 8 days, nearly all of the terrorist acts committed on this day were committed by one sole antagonist; a Turkish terrorist named Habib Marwan. The structure of the mastermind's plot was to have several individual cells or mercenaries disconnected from one another.
Also see: Habib Marwan attacks
Habib Marwan's terrorist cell & mercenaries
Edit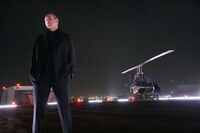 Habib Marwan: organizer, leader, financier and mastermind of the plot, who played a direct role in it's final three phases; used Mandy and Gary to track Richard Heller; was the activator of the Dobson Override; arranged the strike on Air Force One and stole the Nuclear football; coordinated the warhead's launch, martyred himself at the day's end
First sub-cell
Edit
Navi Araz: leader of this subsection of Habib Marwan's terror cell, was responsible for the theft of the Dobson Override, as well as helping to plan the kidnapping of James Heller and Audrey Raines; was killed by his own son, Behrooz Araz
Second sub-cell
Edit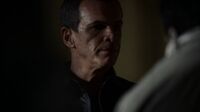 Omar: leader of the cell stationed at Omar's compound, leader of the plot to kidnap and broadcast the execution of James Heller; shot by Marines
Nuclear metldown conspiracy
Edit
AF1 strike and hostage exchange
Edit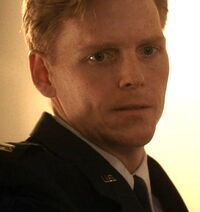 Nuclear rocket attack
Edit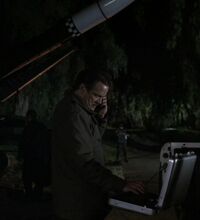 McLennen-Forster
Edit
Jack Bauer assassination conspiracy
Edit
Walt Cummings: ordered Agent Spalding to kill Jack Bauer in order to prevent any intelligence to be passed on to the Chinese.
Dale Spalding: a corrupt Secret Service agent sent to apprehend and kill Jack.
Charles Logan: gave implicit approval for Cummings to arrange Jack's murder
Chinese operatives
Edit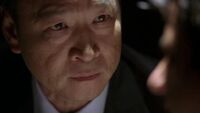 Cheng Zhi: head of security for the Chinese consulate; he kidnapped CTU agent Howard Bern using an impostor escort, and by threatening to deport Bern to Siberia (forever isolating him from his family) coerced him into stating a confession Bauer's responsibility in the raid which caused the accidental death of Koo Yin
See also
Edit