Denis Lill (born April 22, 1942; age 76) played the captain of the Letitcia in 24: Live Another Day.
Biography and career
Edit
Denis Lill was born in Hamilton, New Zealand. He joined the Royal New Zealand Air Force in 1959 when he was still a teenager. During his military years, he developed an interest in drama as he enjoyed mimicking characters of BBC's The Goon Show. He was also involved in theater productions during his service.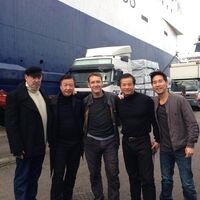 Lill began his professional acting career in 1964, when he appeared on an episode of the British TV series Crossroads. After that, he has appeared in shows like The Regiment, Madame Bovary, Doctor Who, and Red Dwarf. He was also a regular on the shows Survivors (1975-1977) and The Royal (2003-2011).
Aside of television, Lill has appeared in films like Batman, Bad Blood, Evita, Richard III, Red Hot, What Rats Won't Do (with James Frain), Fierce Creatures and Element of Doubt, among many others.
Role on 24 Edit
Lill had a supporting role on 24: Live Another Day as the captain of the Letitcia, a Russian container ship that would help Cheng Zhi and his men to escape from the United Kingdom. Lill was credited as a co-star and appeared only on the last episode.
24 credits Edit
Selected filmography
Edit
Crooked House (2017)
Evita (1996)
Batman (1989)
The Eagle Has Landed (1976)
Television appearances
Midsomer Murders (2016)
The Royal (2003-2011)
Outside Edge (1994-1996)
Mapp & Lucia (1985-1986)
The Regiment (1972-1973)
Crossroads (1964)
External links
Edit