Diehard was the name of a bomber jet assigned by the team behind Operation Nightfall to take out Victor Drazen's real compound.
Nightfall
Edit
After the Nightfall team had been tricked into bombing the wrong base, Jack Bauer and his Delta Strike team found the correct location for Drazen. Bauer planned not to use another bomb, but once he reached Drazen's location within the bunker he found that he would not be able to get inside. He decided to use the jet to bomb the base as he had no way of getting in.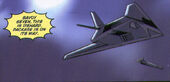 Bauer set up the beacon, and instructed Diehard to take out the base. The pilot of Diehard informed Bauer that the bomb had been dropped. As Bauer and Saunders tried to escape the base before the bomb blew up, Bill Kendall, one of the surviving members of the Delta Strike team who had been waiting at the vehicle because of his injuries, arrived. Carrying a grenade, his drove the car into an oil truck, detonating himself and much of the base. Seconds later, the bomb from Diehard landed, obliterating the base.
Bauer managed to escape. He assumed that he was the only one who got away, but in fact Victor Drazen and Stephen Saunders both survived.
Background information and notes
Edit
Appearances
Edit
 

Expanded universe
Novels

Findings at CTU · Operation Hell Gate · Veto Power · Trojan Horse · Cat's Claw · Vanishing Point · Chaos Theory · Storm Force · Collateral Damage · Trinity · Head Shot · Death Angel · Deadline · Rogue · Trial by Fire

Comics
Games

Countdown · The Game · The Mobile Game · Agent Down · Special Ops · Jack Bauer

Webisodes

Day Zero · Conspiracy · The Rookie

("Coffee Run" · "Mistaken Identity" · "Extraction")
Ad blocker interference detected!
Wikia is a free-to-use site that makes money from advertising. We have a modified experience for viewers using ad blockers

Wikia is not accessible if you've made further modifications. Remove the custom ad blocker rule(s) and the page will load as expected.