Eric Guthrie
Role:
Camera Loader
Kohler (stunt double)
Eric Guthrie was a camera loader who worked on 24. In Season 5, he also doubled for Eric Winzenried after he was injured.
Biography and career
Edit
Guthrie started working in Hollywood in 2002 as a second assistant camera for the short film Another Life. After that, he worked also as a camera loader on several TV and video films, as well as documentaries. In 2013, he was a second assistant camera for the Robert Redford film All Is Lost.
24 credits Edit
Camera operator
Edit
Guthrie was a camera loader for 24 for Season 5, 6 and 7. He also worked on The Rookie.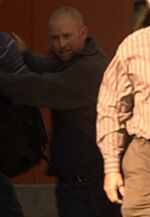 External links
Edit
Ad blocker interference detected!
Wikia is a free-to-use site that makes money from advertising. We have a modified experience for viewers using ad blockers

Wikia is not accessible if you've made further modifications. Remove the custom ad blocker rule(s) and the page will load as expected.