Evan Katz
Role:
Writer
Executive producer
Evan Katz is a writer and executive producer for 24. He has also written for television series such as JAG and Special Unit 2. On the JAG writers' staff, he met with Robert Cochran in the 1990s. Katz also worked with writer Joel Surnow on Special Unit 2 in 2001.
In 2012, Katz served as producer and writer for the series Awake, along with Howard Gordon. The show features Cherry Jones in its main cast.
In 2004, Katz won a Writers Guild of America award for the episode "Day 2: 7:00pm-8:00pm."
Katz returned with Cochran, Gordon and Manny Coto to write the 2014 24 miniseries, 24: Live Another Day.
Katz, along with Manny Coto, wrote and will executive produce the planned 24 spinoff pilot, 24: Legacy.
24 credits Edit
Producer
Writer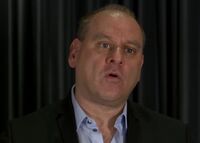 External links
Edit