Ad blocker interference detected!
Wikia is a free-to-use site that makes money from advertising. We have a modified experience for viewers using ad blockers

Wikia is not accessible if you've made further modifications. Remove the custom ad blocker rule(s) and the page will load as expected.
Evan Katz is a writer and executive producer for 24. He has also written for television series such as JAG and Special Unit 2. On the JAG writers' staff, he met with Robert Cochran in the 1990s. Katz also worked with writer Joel Surnow on Special Unit 2 in 2001.
In 2012, Katz served as producer and writer for the series Awake, along with Howard Gordon. The show features Cherry Jones in its main cast.
In 2004, Katz won a Writers Guild of America award for the episode "Day 2: 7:00pm-8:00pm."
Katz returned with Cochran, Gordon and Manny Coto to write 24: Live Another Day, on which he and Coto served as showrunners.
Katz and Manny Coto again serve as showrunners for 24: Legacy.
24 credits Edit
Producer
Writer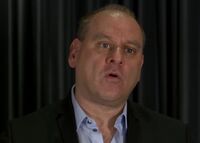 External links
Edit