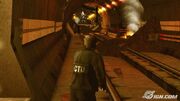 Faye Street Station was a subway station of the Los Angeles Subway located on Faye Street. During the events of The Game, at 10:15pm, Kate Warner was in the subway when an 8.3-earthquake struck Los Angeles. Jack Bauer went to rescue her, but Peter Madsen got there first and kidnapped her. (The Game)
Ad blocker interference detected!
Wikia is a free-to-use site that makes money from advertising. We have a modified experience for viewers using ad blockers

Wikia is not accessible if you've made further modifications. Remove the custom ad blocker rule(s) and the page will load as expected.