Grace Moorea Phillips (born October 5, 1997; age 19) played the innocent child who was saved and resuscitated by Jack Bauer during the Sentox nerve gas attack on the Los Angeles mall in "Day 5: 2:00pm-3:00pm".
Biography
Edit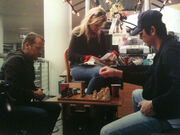 Grace is the daughter of Lou Diamond Phillips and model Kelly Phillips. She has a twin sister, Isabella Patricia, and a younger sister, Lili Jordan, born on September 1999.
Kiefer Sutherland is close friends with Phillips, who also appeared in Season 1. Moorea Phillips was allowed to film the brief scene while going uncredited and having zero dialogue. Jon Cassar and Rodney Charters detail the event in their photo album book 24: Behind the Scenes. During filming, Phillips and his then-wife visited the set to watch over their daughter. Phillips spent some time with Sutherland playing chess.

24 credits Edit
External links
Edit
Ad blocker interference detected!
Wikia is a free-to-use site that makes money from advertising. We have a modified experience for viewers using ad blockers

Wikia is not accessible if you've made further modifications. Remove the custom ad blocker rule(s) and the page will load as expected.