Hammersmith was a station on the Hammersmith & City line of the London Underground.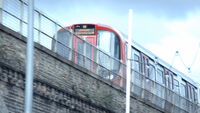 As Erik Ritter and his team of CIA agents were preparing to apprehend the suspect Jack Bauer in East London, a train bound for Hammersmith passed overhead. ("Day 9: 11:00am-12:00pm")

External links
Edit
Ad blocker interference detected!
Wikia is a free-to-use site that makes money from advertising. We have a modified experience for viewers using ad blockers

Wikia is not accessible if you've made further modifications. Remove the custom ad blocker rule(s) and the page will load as expected.