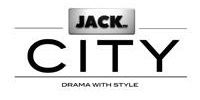 Jack City (stylized as JackCITY) is a television network in the Philippines, and a sister network of Jack TV, owned by Broadcast Enterprises and Affiliated Media, Inc. and Solar Television Network, Inc. Its programming focuses on suspense, science fiction, and drama.
24: Live Another Day aired in the Philippines on Jack City. The two-hour premiere aired on May 6, 2014 at 1:00pm along with the U.S. broadcast via satellite, followed by regular airings at 9:00 p.m. on Tuesday nights.
External links
Edit
Ad blocker interference detected!
Wikia is a free-to-use site that makes money from advertising. We have a modified experience for viewers using ad blockers

Wikia is not accessible if you've made further modifications. Remove the custom ad blocker rule(s) and the page will load as expected.