Jamal bin Muhammed was an international terrorist, discovered by Jason Blaine.
Background
Edit
Name: Jamal bin Muhammed
Known Aliases: N/A
Date of Birth: 1980
Place of Birth: Douma, Syria
Height: 5'10"
Weight: 180 lb
Build: Medium
Hair: N/A
Eyes: Brown
Sex: Male
Complexion: Olive
Citizenship: Syrian
Scars and Marks: None known.
Previous known addresses:
- Douea, Syria
- Frankfurt, Germany
- Airpur, Pakistan
- Beirut, Lebanon
The Rookie
Edit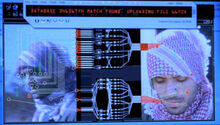 At around 9.12 a.m., Jason Blaine was watching video surveillance of some sort of raid in a Middle Eastern country. Angie Lawson approached him and asked him what he had found. He told her he had found Muhammed, and she asked where he was now. After doing a face scan to confirm Muhammed's identity, Jason announced that he was in Lebanon. After being told by Angie to take a break, Jason declared that he wanted to show the information to CTU's field agents. She told him he had been at it over 20 hours.
Before Jason could show the information to anyone, he was asked by Alton Maxwell to get coffee for him and the other CTU agents in the meeting he called.
Live appearances
Edit
 

Expanded universe
Novels

Findings at CTU · Operation Hell Gate · Veto Power · Trojan Horse · Cat's Claw · Vanishing Point · Chaos Theory · Storm Force · Collateral Damage · Trinity · Head Shot · Death Angel · Deadline · Rogue · Trial by Fire

Comics

One Shot · Stories · Midnight Sun · Nightfall

(1 · 2 · 3 · 4 · 5)

· Cold Warriors · Underground

(1 · 2 · 3 · 4 · 5)

Games

Countdown · The Game · The Mobile Game · Agent Down · Special Ops · Jack Bauer

Webisodes
Ad blocker interference detected!
Wikia is a free-to-use site that makes money from advertising. We have a modified experience for viewers using ad blockers

Wikia is not accessible if you've made further modifications. Remove the custom ad blocker rule(s) and the page will load as expected.