Jim was a field agent of CTU NY active during Day 8.
Jim interrupted Cole Ortiz when he was speaking to Dana Walsh to inform them that they would depart soon for the United Nations.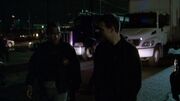 Later on, Jim was a member of the field team with Cole, Owen, and other CTU agents during the operation to secure the fuel rods smuggled by Sergei Bazhaev. After finding the rods missing, the team remained in the area for a time. Eventually, Cole called out to Jim and took his vehicle to go track down Dana for personal reasons.
Jim was also a member of Jack's team when Kayla Hassan was kidnapped by Tarin Faroush. As they followed the trail, he helped Jack and Cole at the UN building when they went to meet with President Omar Hassan.
Around 5:07am, Jim gave Jack a cell phone and told him it was President Allison Taylor.
Live appearances
Edit
Season 8
"4:00pm-5:00pm"

"5:00pm-6:00pm"

"6:00pm-7:00pm"

"7:00pm-8:00pm"

"8:00pm-9:00pm"

"9:00pm-10:00pm"

"10:00pm-11:00pm"

"11:00pm-12:00am"

"12:00am-1:00am"

"1:00am-2:00am"

"2:00am-3:00am"
"3:00am-4:00am"

"4:00am-5:00am"

"5:00am-6:00am"

"6:00am-7:00am"

"7:00am-8:00am"

"8:00am-9:00am"

"9:00am-10:00am"

"10:00am-11:00am"

"11:00am-12:00pm"

"12:00pm-1:00pm"

"1:00pm-2:00pm"

"2:00pm-3:00pm"

"3:00pm-4:00pm"

Chloe's Arrest
Ad blocker interference detected!
Wikia is a free-to-use site that makes money from advertising. We have a modified experience for viewers using ad blockers

Wikia is not accessible if you've made further modifications. Remove the custom ad blocker rule(s) and the page will load as expected.