Joe Nieves (born November 22) played a teenager during Season 1 and Jim Koernig during Season 8 of 24.
Biography and career
Edit
Nieves debuted in 1996 on the television series The Blackberry Inn. After that, he has appeared in The X-Files, A.U.S.A. (with Glenn Morshower), Over There (with Omid Abtahi), CSI: Crime Scene Investigation (with Tony Plana), ER (with Leland Orser), Standoff (with Gina Torres and Michael Cudlitz), Raising the Bar (with Currie Graham), Private Practice (with Leslie Hope), The Young and the Restless (with Carl Gilliard), The Shield (with FJ Rio) and Daybreak (with Ian Anthony Dale and Michael McGrady).
Nieves has also appeared four times in NYPD Blue from 1999 to 2005, all of them in different roles. Throughout these episodes, he has worked with Ricky Schroder, Tanya Wright, Esai Morales, Currie Graham, Mary Page Keller, Lesley Fera, and Anthony Azizi. He also had one of the lead roles on the short-lived series Day Break, and had a recurring role on the show How I Met Your Mother from 2005 to 2014.
Nieves has also appeared in the films Float (with Gregory Itzin) and Bloodsport: The Red Canvas (with Vic Chao).
Role on 24 Edit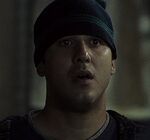 Nieves played a teenager during Season 1. In his scene, he and another teenager harrass David Palmer in an underground parking lot. Nieves was credited as a co-star for this appearance. In Season 8, he appeared again, this time playing NYPD officer Jim Koernig. This time, Nieves appeared in two episodes and was credited as a guest star.
There are a total of 166 episodes between Nieves' last appearance in Season 1 and his appearance in Season 8. This is the second-highest number of any actor in the series; crew member Sterling Rush made two uncredited cameos 168 episodes apart. However, Nieves holds the record for a credited actor.
24 credits Edit
Teenage thug
Jim Koernig
Selected filmography
Edit
Sun Choke (2015)
Money Fight (2012)
Shrink (2009)
Gamers (2006)
Carnival Sun (2003)
Cottonmouth (2002)
Television appearances
Modern Family (2017)
NCIS: Los Angeles (2015)
How I Met Your Mother (2005-2014)
Southland (2012)
Cold Case (2008)
Bones (2008)
CSI: Crime Scene Investigation (2005)
See also
Edit
External links
Edit