John Dixon
Performing as Dawn Brigade gunman
Role:
1. Dawn Brigade gunman
2. Russian consulate guard
John Dixon is a stunt performer that has appeared twice in 24.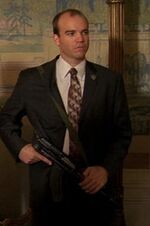 John is a distinguished stunt performer, having worked on many films and TV shows.

24 credits Edit
Dawn Brigade gunman
Russian consulate guard
Selected filmography
Edit
Casa de mi Padre (2012)
Hostel: Part III (2011)
Indiana Jones and the Kingdom of the Crystal Skull (2008)
The Hitcher (2007)
Three Bad Men (2005)
Pirates of the Caribbean: Curse of the Black Pearl (2003)
Armageddon (1998)
Con Air (1997)
Mars Attacks! (1996)
Naked Gun 33 1/3: The Final Insult (1994)
Television appearances
Chuck (2010)
Dollhouse (2009)
Burn Notice (2009)
Without a Trace (2007-2009)
Charmed (2001-2006)
Firefly (2002)
Alias (2001)
See also
Edit
External links
Edit
Ad blocker interference detected!
Wikia is a free-to-use site that makes money from advertising. We have a modified experience for viewers using ad blockers

Wikia is not accessible if you've made further modifications. Remove the custom ad blocker rule(s) and the page will load as expected.