Ad blocker interference detected!
Wikia is a free-to-use site that makes money from advertising. We have a modified experience for viewers using ad blockers

Wikia is not accessible if you've made further modifications. Remove the custom ad blocker rule(s) and the page will load as expected.
John Dixon
Performing as Dawn Brigade gunman
Role:
1. Dawn Brigade gunman
2. Russian consulate guard
John Dixon is a stunt performer that has appeared twice in 24.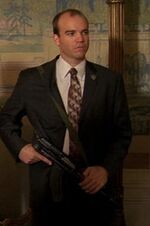 John is a distinguished stunt performer, having worked on many films and TV shows.

24 credits Edit
Dawn Brigade gunman
Russian consulate guard
Selected filmography
Edit
Casa de mi Padre (2012)
Hostel: Part III (2011)
Indiana Jones and the Kingdom of the Crystal Skull (2008)
The Hitcher (2007)
Three Bad Men (2005)
Pirates of the Caribbean: Curse of the Black Pearl (2003)
Armageddon (1998)
Con Air (1997)
Mars Attacks! (1996)
Naked Gun 33 1/3: The Final Insult (1994)
Television appearances
Chuck (2010)
Dollhouse (2009)
Burn Notice (2009)
Without a Trace (2007-2009)
Charmed (2001-2006)
Firefly (2002)
Alias (2001)
See also
Edit
External links
Edit