John Surre was one of the persons whose name and phone number appeared on the receipt registry of Habib Marwan's cell phone SIM card during Day 4. This name—and eleven others including CTU's next lead, Richard Heller—were discovered by Edgar Stiles, who reported his findings to Chloe O'Brian at 4:06am.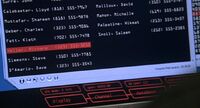 Ad blocker interference detected!
Wikia is a free-to-use site that makes money from advertising. We have a modified experience for viewers using ad blockers

Wikia is not accessible if you've made further modifications. Remove the custom ad blocker rule(s) and the page will load as expected.