Jonathan Ahdout (born March 18, 1989; age 29) played Behrooz Araz during Season 4 of 24.
Biography and career
Edit
Jonathan Ahdout was born in Santa Monica, California. His family is Iranian-American, having left Tehran in 1982 and settling in Southern California the following year. Jonathan has a strong interest in music and the visual arts. He plays the piano, composes music and paints, in addition to being an avid swimmer.
Ahdout made his film debut playing Shohreh Aghdashloo's son Esmail in House of Sand and Fog. Prior to landing the role of Esmail, Ahdout's acting experience was limited to a few school plays. After 24, he appeared in the films American Gun (with James Morrison, Lombardo Boyar, and Dean Norris) and Little Blue Pill.
In 2007, Ahdout appeared in an episode of The Unit, along with Dennis Haysbert, Max Martini, Michael Irby, Necar Zadegan, Conor O'Farrell, and Brad Fleischer. Aside of acting, he has also worked as a production assistant, gaffer, and cinematographer in various films and shorts.
Role on 24 Edit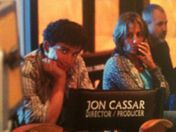 Jonathan Ahdout played the role of Behrooz Araz, the teenage son of Middle Eastern immigrants Navi and Dina Araz. Ahdout was a Guest star, and appeared in 14 episodes of Season 4. Although his fate was left unknown, two deleted scenes were filmed in which he was rescued by the authorties.
24 credits Edit
Selected filmography
Edit
Little Blue Pill (2010)
American Gun (2005)
House of Sand and Fog (2003)
Television appearances
Ultimate Ultimate (2017)
The Unit (2007)
External links
Edit