Ad blocker interference detected!
Wikia is a free-to-use site that makes money from advertising. We have a modified experience for viewers using ad blockers

Wikia is not accessible if you've made further modifications. Remove the custom ad blocker rule(s) and the page will load as expected.
Julian Sands (born January 4, 1958; age 58) is a prolific English actor who played Vladimir Bierko in Day 5 of 24.
Biography
Edit
Sands was one of five siblings. Sands studied at Lord Wandsworth College in Hampshire, and then went onto the Forum Theatre Company and the Central School of Speech and Drama in London, where he met his first wife.
Sands began his film career appearing in supporting roles, including parts in 80s films such as Oxford Blues, The Killing Fields and The Doctor and the Devils. He was cast as the romantic lead in the 1986 film A Room with a View, the success of which prompted Sands to move to Hollywood in 1987 and pursue an American film career.
He has since appeared in a variety of low-tier and higher-budget films, including the title roles in the 1989 cult film Warlock and the 1998 adaptation of The Phantom of the Opera, and parts in films such as Arachnophobia, Boxing Helena, Leaving Las Vegas and Timecode (with Xander Berkeley). He has done voice-overs as Valmont in the Jackie Chan Adventures cartoon for seasons one and two before being replaced by British actors Andrew Ableson and Greg Ellis for the other seasons. Recently he has appeared in the ninth season of Stargate SG-1 (with Tony Todd), playing an agent for an alien menace as well as the CW's Smallville.
Sands has been married twice: to journalist Sarah Sands (whom he divorced in 1987), and in 1990 to writer Evgenia Citkowitz, with whom he lives in Los Angeles. He has a son from his first marriage, Henry (born in 1985) who is currently studying history at Edinburgh University, and two young daughters from his second marriage.
Sands also is a very keen art and antiques collector.
Role on 24 Edit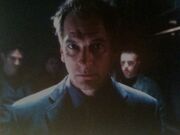 Sands played the role of Vladimir Bierko during Season 5 of 24. His character was one of the main antagonists of the season. In an interview with TV Guide, Sands said that his portrayal was partially influenced by early Bond villains, referencing Ernst Stavro Blofeld in particular, noting the exotic quality of a villain who lurks in the shadows, a departure from the villains of previous seasons, who were generally not revealed to viewers until they were ready to take matters into their own hands.
24 creditsEdit
External links
Edit