The London Courier was a newspaper based in London, England.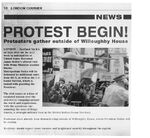 The Courier published an article about the upcoming London visit by President James Heller and the resultant protesting and security measures around the city. The Open Cell hacker group later posted the article on their website. (Open-Cell.org)
Ad blocker interference detected!
Wikia is a free-to-use site that makes money from advertising. We have a modified experience for viewers using ad blockers

Wikia is not accessible if you've made further modifications. Remove the custom ad blocker rule(s) and the page will load as expected.