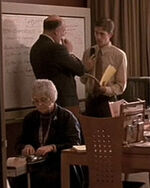 The Los Angeles District Attorney was responsible for prosecuting felonies and misdemeanors that occurred within the jurisdiction of Los Angeles, California.
After George Ferragamo was killed in an office fire, Senator David Palmer summoned the current District Attorney to his campaign hotel, intending to expose Carl Webb and the Latham Group's involvement in the murder. However, Palmer changed his mind after Webb threatened to implicate his son Keith in Ferragamo's murder. ("Day 1: 12:00pm-1:00pm")
In 2004, the District Attorney's office indicted Jacob Rossler for high security code infiltration and identity theft, but did not convict. ("Day 5: 1:00pm-2:00pm")
External links
Edit
Ad blocker interference detected!
Wikia is a free-to-use site that makes money from advertising. We have a modified experience for viewers using ad blockers

Wikia is not accessible if you've made further modifications. Remove the custom ad blocker rule(s) and the page will load as expected.