Ad blocker interference detected!
Wikia is a free-to-use site that makes money from advertising. We have a modified experience for viewers using ad blockers

Wikia is not accessible if you've made further modifications. Remove the custom ad blocker rule(s) and the page will load as expected.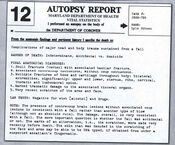 Lyle Gibson was the son of Baltimore attorney Franklin Gibson. As a teenager, he was known for being aggressive with girls, and he liked to flash a switchblade at parties.
At the age of nineteen, Gibson raped Nicole Palmer, daughter of Maryland Senator David Palmer. After learning what had happened, Nicole's brother Keith confronted Gibson at his Harbor Towers apartment. Gibson attacked him with the knife, and in the ensuing struggle Gibson fell to his death from the apartment balcony. (Findings at CTU)
With the help and knowledge of Sherry Palmer and Carl Webb, the death was covered up as a suicide, and Keith's part in it remained secret until George Ferragamo revealed the truth to reporter Maureen Kingsley. This incited Webb and two of Palmer's political supporters, Phil Tuttle and Bob Jorgensen, to have Ferragamo killed in a fire and to destroy evidence in a conspiracy to protect Palmer's chance for the Democratic Presidential candidacy. ("Day 1: 4:00am-5:00am")