Access to Wiki 24: Granted
Welcome to the premier, unofficial
24
database that
you can help
expand.
Wiki 24 started on
September 29
,
2005
and currently contains
7,422
articles and
13,175
images.
Anyone can contribute to the project. Just click on the edit button at the top of an article and start typing! You can also see what we're working on or vet your idea with the community.
Although Wiki 24 contains SPOILERS on any and all episodes that have been broadcast, it is our current policy not to include information from any episodes that have not aired in the United States, with the exception of sourced, verifiable pre-release information on certain articles. See our Spoiler Policy for more information.
24 News
June 1, 2015
Howard Gordon confirms the development of a 24 spin-off which would focus around a new younger agent, instead of Jack Bauer.
March 21, 2015
October 26, 2014
October 19, 2014
September 30, 2014
Quarterly Featured Article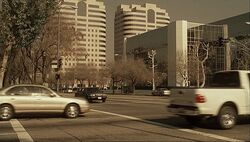 Season 1 filming locations details all of the real-world locations that were used in the filming of the first season of 24. The season was all filmed in Los Angeles and the surrounding areas, with much of the bulk of location shooting taking place in the San Fernando Valley. The studio sets and production headquarters were at 6250 Canoga Avenue in Woodland Hills, in the Valley, where the studio set locations were constructed by Joseph Hodges. The set locations are also detailed on this page, as well as an episode by episode breakdown of all locations used. Locations used in other seasons can be found at the filming locations on 24 page.
Recently featured: Suitcase nuclear device, Annie Wersching, Joel Surnow
Please submit nominations for our next featured article here.
Please note that Wiki 24 is an unofficial resource and is not endorsed by 20th Century Fox or the producers of 24.
Which is your favorite 24 finale episode?
Quote of the Day
Jack Bauer: (to Nina) Sunday before you killed my wife, Teri and I were in town at a boardwalk in Venice, just watching all the rollerbladers, the musicians, laughing at the crazy people, spending time together. Teri sees this "Sno-Cone" stand, she giggles like a kid, she takes off to get in line, she wants one. I remember I was watching her, I just couldn't help myself. When I looked up, she was talking with this old lady behind her, and the two of them were laughing, and I'm thinking to myself, "How the hell does she do that? How does she strike up a conversation with an absolute stranger, and they just start laughing like they've been friends forever?" That's a gift. I remember thinking, "God, I wish I could do that." But I can't. That was Teri. My wife. That's what you took from this world. That's what you took from me and my daughter. I just wanted you to know that.
On This Day
On September 3 in...
1951: Lou Richards is born.

1958: Kevin McCorkle is born.


Wiki 24: The Ultimate Project is underway!
See how you can help out...