Access to Wiki 24: Granted
Welcome to the premier, unofficial
24
database that
you can help
expand.
Wiki 24 started on September 29, 2005 and currently contains
7,422
articles and
13,175
images.
Anyone can contribute to the project. Just click on the edit button at the top of an article and start typing! You can also see what we're working on or vet your idea with the community.
Please note that Wiki 24 contains SPOILERS on all episodes of 24. See our Spoiler Policy for more information.
Quarterly Featured Article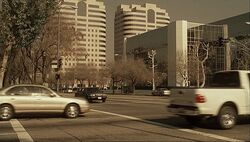 Season 1 filming locations details all of the real-world locations that were used in the filming of the first season of 24. The season was all filmed in Los Angeles and the surrounding areas, with much of the bulk of location shooting taking place in the San Fernando Valley. The studio sets and production headquarters were at 6250 Canoga Avenue in Woodland Hills, in the Valley, where the studio set locations were constructed by Joseph Hodges. The set locations are also detailed on this page, as well as an episode by episode breakdown of all locations used. Locations used in other seasons can be found at the filming locations on 24 page.
Recently featured: Suitcase nuclear device, Annie Wersching, Joel Surnow
Please submit nominations for our next featured article here.
24 News
June 1, 2015
Howard Gordon confirms the development of a 24 spin-off which would focus around a new younger agent, instead of Jack Bauer.
March 21, 2015
October 26, 2014
October 19, 2014
September 30, 2014
Who is your favorite multi-season villain?
On This Day
On August 29 in...
1936: John McCain is born.


1971: Mark Bomback is born.
1976: Eric Ritter is born.

Quote of the Day
Robert Ellis: Savoy team, this is Savoy Seven. Let me know if you're still out there. I'm still here. If you guys can hear me, I'll hang in here as long as I can. I'll check every fifteen minutes. Just don't give up.

Wiki 24: The Ultimate Project is underway!
See how you can help out...

Please note that Wiki 24 is an unofficial resource and is not endorsed by 20th Century Fox or the producers of 24.