"Everybody wants to get out of CTU Headquarters... All I wanted to do was get out of CTU and go fight bad guys. Fortunately, Kiefer gave me that great scene where I got to take out the bad guys with him in CTU. And I think that the next best thing to getting out of CTU would be running CTU."
Marisol Nichols (born November 2, 1973; age 44) played Nadia Yassir during Season 6 of 24.
Biography and career
Edit
Marisol Nichols was born in Chicago, Illinois to a father of Hungarian and Romanian descent and a Texan mother of Spanish and Mexican ancestry. She was raised in Naperville, Illinois, and is the oldest of three siblings. Nichols attended Naperville North High School, and then attended College of DuPage in Glen Ellyn.
Through her career, Nichols has appeared in shows like In Justice (with Brian Goodman and Rena Sofer), ER (with Currie Graham), Blind Justice (with Carmen Argenziano and Rena Sofer), and Resurrection Blvd. (with Yorgo Constantine and Tony Plana).
Nichols is also known for playing Chevy Chase's daughter Audrey in the fourth Vacation movie, Vegas Vacation. She has also appeared in films like Scream 2, Can't Hardly Wait (with Channon Roe), Bowfinger, Felon (with Larnell Stovall), and Delta Farce (with Glenn Morshower).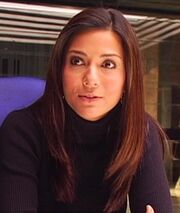 Nichols is a member of the Church of Scientology and self-confessed sci-fi fan. She is also a volunteer supervisor and spokeswoman for Criminon, dedicated to the rehabilitation of prison inmates, and a spokeswoman for the Citizens Commission on Human Rights, a satellite organization of the Church of Scientology. She also volunteers her time to Youth for Human Rights and the Earth Organization.
Role on 24 Edit
Nichols auditioned for several other roles on 24 before being cast as Nadia, including Michelle Dessler and Carrie Turner in Season 2, and Hector Salazar's girlfriend Claudia Hernandez in Season 3.
24 creditsEdit
Selected filmography
Edit
Felon (2008)
Delta Farce (2007)
Big Momma's House 2 (2006)
The Road Home (2003)
Laud Weiner (2001)
Bowfinger (1999)
The Sex Monster (1999)
Jane Austen's Mafia! (1998)
Can't Hardly Wait (1998)
Scream 2 (1997)
Vegas Vacation (1997)
Television appearances
Teen Wolf (2015-2016)
Criminal Minds (2015-2016)
NCIS (2014-2015)
Private Practice (2012)
GCB (2012)
NCIS: Los Angeles (2010)
The Gates (2010)
The Storm (2009)
Life (2009)
In Justice (2006)
Blind Justice (2005)
Cold Case (2004)
Homeland Security (2004)
Charmed (2003)
Nip/Tuck (2003)
Law & Order: Special Victims Unit (2003)
CSI: Crime Scene Investigation (2003)
Friends (2003)
The Division (2003)
The Twilight Zone (2002)
Alias (2002)
Resurrection Blvd. (2000-2002)
The Princess & the Marine (2001)
The Princess & the Barrio Boy (2000)
Malcolm & Eddie (2000)
Boy Meets World (1999)
Odd Man Out (1999)
Cybill (1998)
Diagnosis Murder (1997)
ER (1997)
Friends 'Til the End (1997)
Beverly Hills, 90210 (1996)
Due South (1996)
My Guys (1996)
External links
Edit
Ad blocker interference detected!
Wikia is a free-to-use site that makes money from advertising. We have a modified experience for viewers using ad blockers

Wikia is not accessible if you've made further modifications. Remove the custom ad blocker rule(s) and the page will load as expected.