Marvin Jordan played Commando #2 during Season 7 of 24.
Biography and career
Edit
Marvin Jordan started his acting career in 2001, appearing in the film My Dark Days. After that, he has appeared in feature films like Iron Man (with Bill Smitrovich, Faran Tahir, and Tim Guinee), Transformers: Revenge of the Fallen (with Glenn Morshower), and Murder101 (with Tom Sizemore and Jamison Haase).
Aside of films, Jordan has also appeared in TV shows like CSI: NY (with Pancho Demmings and Hector Atreyu Ruiz), Bones (with T.J. Thyne, Stephen Fry, and Jesse D. Goins), ER, Crossing Jordan (with Ravi Kapoor), and NCIS: Los Angeles (with Eric Christian Olsen).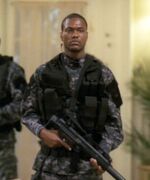 Role on 24 Edit
Jordan played one of Benjamin Juma's commandos during Season 7 of 24. He was seen mostly standing guard outside the White House safe room during "Day 7: 6:00pm-7:00pm" and "Day 7: 7:00pm-8:00pm". Jordan's character carried an MP5SD3 submachine gun and was killed when Jack Bauer and Secret Service retook the building. He was credited as a co-star for his role.
24 credits Edit
Selected filmography
Edit
Murder101 (2014)
Transformers: Revenge of the Fallen (2009)
Iron Man (2008)
Television appearances
NCIS: Los Angeles (2010)
24 (2009)
ER (2007)
Bones (2007)
CSI: NY (2006)
Sleeper Cell (2005)
External links
Edit