Marvin Ross
Left, behind the scenes with Brandon Shaw
Role:
Gang member
Marvin Ross is a stunt performer and actor who portrayed a gang member in 24: Legacy.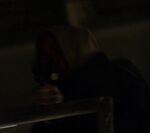 His character was present during the raid of Jadalla Bin-Khalid's warehouse, and after Isaac Carter ordered everyone to get out, he was seen ducking away.

24 credits Edit
External links
Edit
Ad blocker interference detected!
Wikia is a free-to-use site that makes money from advertising. We have a modified experience for viewers using ad blockers

Wikia is not accessible if you've made further modifications. Remove the custom ad blocker rule(s) and the page will load as expected.