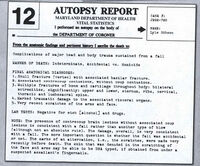 The Maryland Department of Health was a government department of the state of Maryland, responsible for public health.
A coroner with the Maryland Department of Health performed the autopsy for Lyle Gibson after Gibson's fatal fall from his Harbor Towers balcony, and noted scratch marks and other signs of a struggle in addition to the expected fall damage. The report was covered up by Carl Webb to hide Keith Palmer's involvement in the accident, until Maureen Kingsley obtained a copy of the autopsy report and uncovered the real story of what had happened. ("Day 1: 4:00am-5:00am", Findings at CTU)
Ad blocker interference detected!
Wikia is a free-to-use site that makes money from advertising. We have a modified experience for viewers using ad blockers

Wikia is not accessible if you've made further modifications. Remove the custom ad blocker rule(s) and the page will load as expected.