Metropolitan Police Department of the District of Columbia
Talk

0
Share

The Metropolitan Police Department of the District of Columbia, more commonly known as Metro PD is the primary police force of Washington, D.C.. They often assist the FBI with field operations.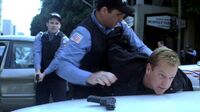 Metro PD officers arrested Jack Bauer and Renee Walker after a federal warrant was issued by Sean Hillinger. Officers also assisted in raiding the White House after it was taken over by General Benjamin Juma.
Ad blocker interference detected!
Wikia is a free-to-use site that makes money from advertising. We have a modified experience for viewers using ad blockers

Wikia is not accessible if you've made further modifications. Remove the custom ad blocker rule(s) and the page will load as expected.