Michael P. Lugar played an unnamed CTU chopper pilot during Season 4 of 24.
Before 24, Lugar worked as a Production Assistant on Susan's Plan, a 1998 film. In recent years, he has served as Kiefer Sutherland's assistant for films like Mirrors and River Queen. In director/producer Jon Cassar's book 24: Behind the Scenes, Cassar details Lugar also working as a prop assistant to actors like Dagmara Dominczyk, Reiko Aylesworth and Roger Cross during Day 4.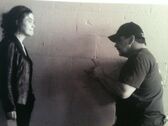 24 credits Edit
External links
Edit
Ad blocker interference detected!
Wikia is a free-to-use site that makes money from advertising. We have a modified experience for viewers using ad blockers

Wikia is not accessible if you've made further modifications. Remove the custom ad blocker rule(s) and the page will load as expected.