Nikola's Delights was a restaurant owned by Nikola Luminović.
On Day 1, after Victor Drazen had been freed from the Saugus detention center, Andre Drazen took him to the restaurant. Victor greeted his old friend Nikola, and was served food by the man's daughter Mila. He commented that the borek was especially good. However Jack Bauer, the Drazens' prisoner, grabbed a knife and held Mila hostage. Victor responded by shooting her in the head. Drazen's men then beat Jack savagely.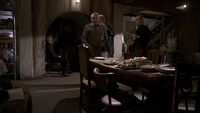 When Nikola found his daughter's body, he grew angry at Victor for murdering her. Victor tried to blame the death on Jack, but ended up shooting Nikola dead. Kim Bauer then arrived at the restaurant, also held prisoner by the Drazens. Andre told his men to clear out, and they left the restaurant to go to Dock 11A at the Port of Los Angeles. ("9:00pm-10:00pm")
Backgroud information and notes
Edit
Appearances
Edit
Season 1
| | | | | | |
| --- | --- | --- | --- | --- | --- |
| "12:00am-1:00am" | "1:00am-2:00am" | "2:00am-3:00am" | "3:00am-4:00am" | "4:00am-5:00am" | "5:00am-6:00am" |
| "6:00am-7:00am" | "7:00am-8:00am" | "8:00am-9:00am" | "9:00am-10:00am" | "10:00am-11:00am" | "11:00am-12:00pm" |
| "12:00pm-1:00pm" | "1:00pm-2:00pm" | "2:00pm-3:00pm" | "3:00pm-4:00pm" | "4:00pm-5:00pm" | "5:00pm-6:00pm" |
| "6:00pm-7:00pm" | "7:00pm-8:00pm" | "8:00pm-9:00pm" | "9:00pm-10:00pm" | "10:00pm-11:00pm" | "11:00pm-12:00am" |
Ad blocker interference detected!
Wikia is a free-to-use site that makes money from advertising. We have a modified experience for viewers using ad blockers

Wikia is not accessible if you've made further modifications. Remove the custom ad blocker rule(s) and the page will load as expected.