The official website of 24 was hosted at http://www.fox.com/24 over the course of the series' original run. The website featured full episodes and clips, episode summaries, character and cast profiles, games, and many other features, changing from season to season. The site was reactivated for the 2014 event series 24: Live Another Day, and again for the 2017 spinoff 24: Legacy.
Recurring features
Edit
For the first six seasons, profiles were written for prominent characters outlining their work and educational histories. Marc Cerasini contributed the character profiles for season 1, which were later included and expanded in his novel Findings at CTU.
For the season 7 redesign, tabs suggested the existence of character profiles for each of the main cast, but these were never made available. No profiles were featured for season 8 or later seasons.
The Research Files were informative essays released weekly, exploring a real-world concept featured in that week's episode. The Research Files were discontinued after Season 6.
Season 1 (2001-2002)
Edit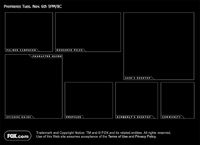 The original version of the site was built in Adobe Flash and launched around October 2001 prior to the series premiere on November 6. A short intro featured the 24 Theme and images from the first two episodes. A ticker above the site content featured news items and the next episode's airdate.
This version of the site was available as an archived version through seasons 2 through 4.
External links
Season 2 (2002-2003)
Edit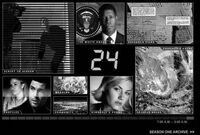 In the run up to the second season, the flash website was updated, keeping the same format but with new content. It contained a link at the bottom to the archived version of the season 1 site.
Episode Guide – recaps of each episode
Character Guide
Profiles – biographies on Jack Bauer, Kim Bauer, David Palmer, Kate Warner, Tony Almeida, Nina Myers, George Mason, Sherry Palmer, Michelle Dessler, and Paula Schaeffer.
Welcome to The Palmer White House – a representation of David Palmer's White House website
Marie and Reza's Wedding Page – a representation of Marie Warner's personal wedding website
Jack's Desktop – a Flash representation of Jack Bauer's personal computer
Kimberly's Phone – a representation of Kim Bauer's laptop computer
Community
Script to Screen – this replaced Jack's Desktop at some point after the season finished, and detailed some behind the scenes information.
External links
This article or section is incomplete.

This page has been identified as needing attention. It does not currently meet the standards of quality set by the Wiki 24 community because it is missing important information. Please edit this page to expand it, or visit the article's talk page to discuss proposed additions.
Legacy (2016-present) Edit
In January 2016, the official website was relaunched and redirected to the URL http://www.fox.com/24-legacy. The initial version featured the 24: Legacy press release and a playlist of officially released promotional videos.
External links
Edit