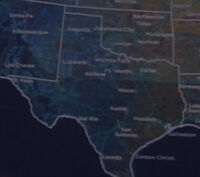 Oklahoma was a state in the southern United States, bordered by Colorado and Kansas to the north, New Mexico to the west, Texas to the south, and Arkansas and Missouri to the east.
Cities in Oklahoma included Bartlesville, Lawton, Muskogee, Norman, Oklahoma City, Tulsa. ("Day 4: 3:00am-4:00am")
Air Force pilot Bob Lundquist flew over Oklahoma on his way from Lackland Air Force Base in San Antonio to intercept a suspected EMP bomb in the airspace over Kansas. (Veto Power)
External links
Edit
Ad blocker interference detected!
Wikia is a free-to-use site that makes money from advertising. We have a modified experience for viewers using ad blockers

Wikia is not accessible if you've made further modifications. Remove the custom ad blocker rule(s) and the page will load as expected.